Thanks for stopping by!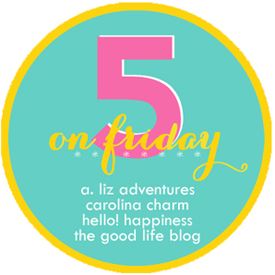 one
This week
I announced
that my husband and I are moving. And that going awfully. The place we were going to move into ended up telling us they don't have any apartments available. Now we don't know where to go and our apartment is already being advertised for rent. We don't know what to do. And December really isn't that far away so we might be homeless soon. So if anyone knows of a place in Logan, preferably close to the USU campus, very cheap, PLEASE let us know. I'm majorly stressing out.
two
My new fear of boxes. Last Friday I
shared a story
about finding a cockroach in a box. While I was terrified at the time and struggled at work the rest of the night fearing there might be another one (which I found another one on Tuesday of this week, dead on the ground) I never imagined that the experience would have lasting complications. Now I have a lot of weird fears: ladders, birds, gum, grinding my teeth, etc. But this new fear of small white closed boxes is probably the weirdest. But the next time I worked I went into that same office and found a small white box, completely identical to the one with the cockroach in it, sitting on a desk, and I wouldn't go near it. I hope this isn't a lasting fear (that could be fun on Christmas morning) and that I'll stop being afraid of white boxes soon but honestly I cannot handle cockroaches. At. All.
three
This past week our garbage disposal in our sink broke. I ignored it for a while because I didn't want the managers to see our messy apartment but after the sink would hardly drain anymore and a smell of death attacked the apartment, we cleaned up the kitchen/living room to invite the manager in to fix it. And the smell is gone!! Yay! Now we just have to deal with the eight lightbulbs that have burnt out since we moved here. You heard me correctly, in six months of living here we've had eight lightbulbs burn out. It's driving me insane! But after the lightbulb thing all the big fixes will be ready for us to move out... if we have a place to go... which we don't...
four
It's almost Thanksgiving!! This will be the first Thanksgiving of my life I will not be with my family. I will be with my in-laws. I'm super excited for it and to see every one (I honestly have the greatest in-laws). It will be weird to not be with my family, but at least I get Christmas with them. I told Chris that I could not have Christmas without my family, not yet. I need my family Christmas still, even though things will be different since I'm married. I'm sorry I didn't do a holiday decorating under $10 for Thanksgiving. I really wanted to, but I honestly don't have $10 and I'm way too busy with school.
five
My brother was here yesterday! My brother-in-law Sheldon was here yesterday to hang out with my husband. I didn't get to hang out with him as much because I had class and work but I did convince them to come to my social dance class. It's so funny because I've been dancing since I was four years old and I think I'm considered good, but my husband can't dance. And I was laughing so hard! I don't care that my husband can't dance, especially since it's so entertaining for me. :)
If you found this blog through the link up, please leave a comment below and let me know what you think.