This post is part of the Five on Friday link up with
The Good Life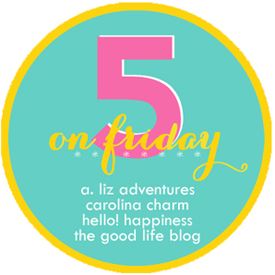 one
MY BROTHER IS HOME
!! My brother-in-law got home from his LDS mission this week! We got to pick him up at the airport and spend the day with him! I'm so excited to get to know him more as time goes on and we're just so happy to have him back at home.
two
My
Watch Mojo
addiction. It is a complete addiction. In fact, while obtaining that link I watched a few more of their Top 10 videos. I just like them. Even if they distract me for hours from homework.
three
STRESS!!! Major, intense, stress! I have so much homework to do: papers, research projects, presentations, tests, and a bunch of little assignments in between... and no time to do it all, which is why the last two of the things on this list are going to be super boring (and also because I can't think of anything else exciting that happened this week). I apologize, but really my homework load is ridiculous right now and I'm trying to get good grades this semester to bring up my GPA... sigh... hashtag college life problems...
four
If you haven't already, make your guesses for our big news. That's basically all I have to say about that...
five
Sleep. I just want sleep. So I can't write much more because the sooner I get my homework done the sooner I can sleep. Wish me luck!