This post is a link up with
The Good Life
about five random things from the week.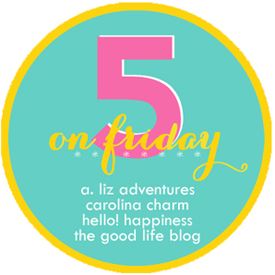 One
The Concept of Time
No, this is not a lesson on how time works or anything like that. This week went by super slow! However, I am in shock that we are almost halfway through October! Can you believe it's only two and a half months till 2014??? I sure can't. Everything about this semester went by super fast, I'm already halfway done with the semester, and it's all been going by so fast... except for this past week. And this past week was ridiculously boring and long. I wish it would have been super fast like the rest of them.
Two
Black Nails
My Nana hates when I paint my nails black, but it's October/Halloween time and I LOVE IT!! I am never a fan of painting my nails unless it's black. Black is my favorite color (even though everyone tells me it's not a real color) and I just feel like myself when I paint my nails black. So I did it, I'm super happy. I wish my laptop webcam was better so the picture looked better (and just my laptop in general, because it's really struggling lately).
Three
Halloween Under $10
I'm in the works of a post about how my husband and I are decorating our apartment for Halloween for less than $10. We are very poor and just can't afford holiday decorations, but Halloween is my favorite holiday so I couldn't resist! I'm super excited about this post because it really worked! Halloween under ten bucks and it doesn't look half bad! Stay tuned to learn about how we did it! :)
Four
General Conference
This past weekend was the
LDS General Conference
and I absolutely loved it!! I think this was the first time that I was able to watch all four sessions and I learned so much and really felt the spirit! I also followed
#ldsconf
on Twitter during the sessions and read what other people thought. It was fantastic! I did a ton of Tweets as well, be sure to
check those out
! My sister also slept over so it was a great weekend.
Five
Five Months
Five months ago today I was married
for time and all eternity
to the love of my life! It was the greatest day of my life and I can't believe it's been five months already! It's almost half a year! We aren't doing anything to celebrate because we're broke... but we do have cake mixes, maybe we'll make a cake. :)
If any of you link up for Five on Friday, I would love to read it!
Leave a comment and link below! :)