This post is brought to you by LAZINESS! It gets you far in life... not.
1. MERRY CHRISTMAS!!! Yes, I seriously didn't even get on my blog long enough to write Merry Christmas. That's pure laziness right there. Yes, I did work 24 hours this week, which isn't too far off from my normal week, but seriously, I can't even write Merry Christmas? I'm pathetic. Anyways, I hope you all had a very merry Christmas! Mine was FANTASTIC!!
2. I made a Star Wars Clone Trooper Snowflake!!!
It was pretty awesome if I do say so myself. I found how to do it
here
and the example snowflake looks like this:
And I say I did pretty darn well. We looked at the other ones but seriously I don't think anyone could make this:
I love you Princess Leia, but that's not happening.
3. I didn't divulge in the extended version of my shopping trip with my brother. I will now share just a few things with you.
This book... what? Okay sure I want a "low stress, high success, LDS wedding" but do I really want a wedding planner book with a slightly creepy winking bride on it? No, no I do not. Thank you, but I'll find something else. Like
THIS!
!
A South Pole Water Tribe nativity scene!! With an adorable penguin and seal!! I love it! I wanted to buy it. I apologize for the horrible quality photo, it was taken with my phone. My phone camera shouldn't really deserve to be called a camera. But doesn't the above picture look like this: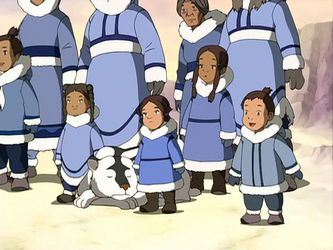 Same outfits, same dog, I NEED THIS NATIVITY SCENE!! PS, I've been watching way too much
Avatar
lately, but I'm not ashamed about it. In fact, I'm proud of it. It makes me happy. :)
Also while shopping I found something out. If the fire alarm starts going off in the Hallmark store at the mall, what do people do??? Complain. Not try to evacuate the store, don't even think about asking the store workers on what to do, no, just complain. "That's loud!" "Turn that off!" You know if it was going off because of a real fire I wonder if people would still react the same way "Curse you fire for ruining my Christmas shopping!!"
4. I'm the best girlfriend/fiance in the world. Yep. Because only I would spend $80+ on my fiance's fishing related gift on this:
And this:
And a $50 gift card to
Cabela's
for fishing related gifts. Granted, this gift could have been much cooler (if I had gotten to the store an hour earlier John Bytheway would have been there to sign the book and the gummy worms in the candy fish tackle box were like rocks) but he loved it anyways.
5. K-Mart already started selling Valentines. Before Christmas.
So I guess the real question is why; Why do K-Mart employees want to cause husband/boyfriends searching for the perfect Christmas gift to start stressing out over Valentines Day??? I believe that if this gets kept up, the divorce rate will keep going up as well. Too much holiday gift stress isn't good for relationships.
6. I had a lovely ward-y girls dinner on Saturday! They were girls I had grown up with and we haven't seen each other in forever! It was so much fun eating, catching up, and sharing Christmas gifts! I love you Kelsey for setting that up! And I miss all my E3 girls!!
7. I bought some really great gifts this year!!
My dad received a jar full of Peanut M&M's with a tag saying "To my nutty but sweet dad". (I did not come up with this myself, see HERE) I also got him a Utah State hat! It's about time he started to support my school more!! :)
My mom received a box of hand and feet warmers (the little pack things), a silver shimmery scarf, and two sets of earrings.
My sister's was my favorite!! I bought her Harry Potter Kindle Fire covers!! Found on Etsy HERE!! I also got her a Ron one. They are super cute and so perfect for my sister!! :)
I went to six different store just to find Lego Pirates of the Carribean Video Game for Wii for my brother. I'm glad I did too because I was playing it last night and I love it!!! :)
8. (and the last one) My parent know their kids so very very well...
Merry Christmas everyone!!!