Okay, I'm about to share with you three different websites that just blow my mind!!
http://www.sammydress.com/Wholesale-Wedding-Dresses-c-216.html
This dress is only $57.56 through the website above!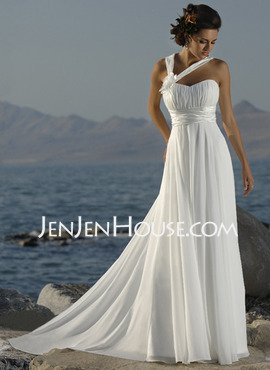 This one is $123.99!
This dress is $189.99!
Now I would like to clarify a few things. I did show dresses that were lower priced on purpose. They do have more expensive dresses, some much more beautiful and elegant. For example:
The above dress, priced at $599.99, happens to be Helene Bridal's most expensive dress on the website.
This one, through Jen Jen House, is $338.99, and one of their most expensive.
Lastly, this one through Sammy Dress is $145.33.
As a note, Sammy Dress has a very small collection of dresses, but are the cheapest. All these websites have beautiful dresses for a bride on a budget. Lately I've been watching Say Yes to the Dress and these women go into the store with over $2000 to spend on a dress. I personally don't have that much money. So these online options are fantastic for me!
I highly recommend going into a bridal store and trying on dresses before you purchase one online. If you try on dresses, you'll know which styles look best on you, what you're looking for, and what size you are. Trying on dresses before buying online is necessary to make sure you get exactly what you want, and find the perfect dress for you!
Personally, I want this dress. And at $259.99, I can't complain much. However, I am LDS and wish to get married in the temple, and therefore must alter to dress to have sleeves. I very much recommend ordering your dress online as early as possible, so that the possible alterations can be made.
Happy dress hunting!!